Crayfish/kräftor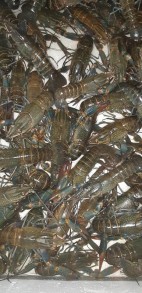 Price:
฿595
Inc. 7% Tax
Type:
Crayfish 500 gr
Quantity:
In Stock
Our own crayfish cooked scandinavian style with dill, salt, beer and a hint of sugar.
We pack 500 gram and put 400 gr of dill brine inside.
Our crayfish are the Australian Redclaw Crayfish (Cherax quadricarinatus)
That are relativ to both American signal crayfish (Pacifastacus leniusculus) and the scandinavian flood crayfish (Astacus astacus)

The crayfish are hard to find in Thailand and we looking all the time ask us about your order and we give you more information.